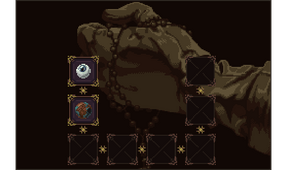 Equip Rosary Beads in to improve the characteristics of the Penitent One. Find additional knots and give them to Soledad in the Brotherhood of the Silent Sorrow to increase the number of beads that can be equipped.

Achievements
Engracia
Achieve the maximum value of rosary beads slots.
Mysteria Lucis
Get all Rosary Beads.

Beads increasing strength
Rosary Bead
Description
Acquisition
Token of Appreciation
Provides a

+15%

damage bonus if all Bile Flasks are depleted.
Acquired in Albero after donating
10000 to the church.
Knot of Hair
Provides a

+5%

damage bonus.
Acquired in Grievance Ascends after the Egg of Deformity quest.





Beads related to Prayers
Rosary Bead
Description
Acquisition
Drop of Coagulated Ink
Provides a

+100%

prayer damage bonus.
Acquired in the Library of the Negated Words.
Fire Enclosed in Enamel
Reduces prayer casting time (needs further testing).
Acquired in Echoes of Salt.


Beads related to Tears of Atonement
Rosary Bead
Description
Acquisition
Scaly Coin
Adds

+50%

to the number of Tears of Atonement harvested on kills.
Reward from a Confessor Dungeon.
Uvula of Proclamation
Adds a chance of earning Tears of Atonement when destroying surrounding objects.
Acquired in the Wasteland of the Buried Churches.

Beads related to Bile Flasks
Rosary Bead
Description
Acquisition
Bead of Gold Thread
Reduces Bile Flask use time.
Acquired in Graveyard of the Peaks. Requires Three Gnarled Tongues and Blood Perpetuated in Sand to reach.
Cloistered Ruby
Adds ranged proyectiles to Mea Culpa attacks, for a few seconds after using a Bile Flask.
Acquired in Albero after donating 50000 to the church.
Pelican Effigy
Protects against all damage while using a Bile Flask.
Acquired in Jondo. Requires Three Gnarled Tongues to reach.
Sphere of the Sacred Smoke
Fills the Bile Flasks after some attacks.
Acquired in the Wall of the Holy Prohibitions.
Reliquary of the Suffering Heart
Regenerates health over time, after drinking a Bile Flasks.

NG+ Exclussive.

Rewarded for completing the game with the Bleeding Heart penitence.

Trending pages
All items (37)
A
B
C
D
E
F
H
I
K
L
M
P
Q
R
S
T
U
W
Community content is available under
CC-BY-SA
unless otherwise noted.