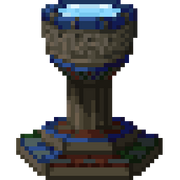 Fervour is used to cast Prayers or perform special attacks. It is gained either by slaying and executing enemies, recovering a Guilt Fragment, or holding RANGED ATTACK so that The Penitent One uses his own blood to add to his Fervour. This method sacrifices health for Fervour.
The Penitent One can increase his maximum Fervour by anointing himself with the Oil of the Pilgrims, pictured to the right. Their locations are listed below.
Locations

Locations
Community content is available under
CC-BY-SA
unless otherwise noted.